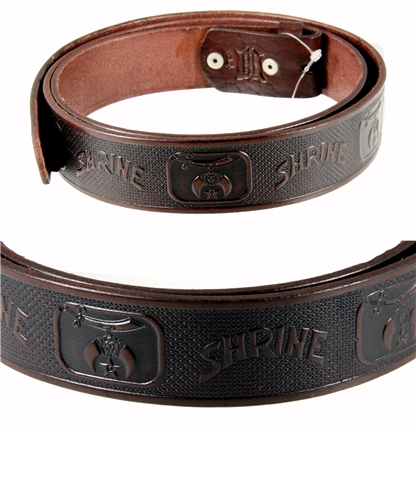 Free ground shipping is available to the continental United States!
This is a very high quality genuine leather belt, finished in brown and has the shrine logo and design embossed into the leather. The logo and Shrine design is continually embossed throughout the entire length of the belt. Measures 1 3/8 inches wide and has a 2 snap buckle loop making it very easy to change out buckles. This belt does not come with a buckle but any buckle made to accept a 1.5 inch belt will work. We carry a nice variety of Mason and Shrine buckles and other belt varieties as well. There is no stitching on this belt. When buying a good quality leather belt it is important to remember there should be no stitching in the leather because that will be the first thing to wear out and then you must have your belt re-sewn. This belt will last a very long time, the only maintenance required may be to put some leather dye on it if its color wears. Available in sizes 32 through 60.
Most all of our Shrine and Masonic inventory is from Buckles Unlimited that was originally started by Ron and Pearl Scissors in the early 1960's. Ron and Pearl traveled the country for almost 50 years serving the Shrine and Mason community with the finest products available. Aside for their love of this community, their innovation helped create some of the most popular products that are still used today. The Quiet Witness is proud to carry on the long and respected devotion the Scissors family had for the Mason and Shrine community. If you see something we do not carry, as has been the case for many years, we will help you get it made with excellent quality and price.